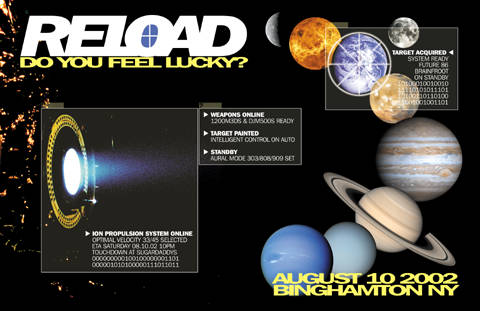 T plus 185265hr 07min 27sec
UPCOMING FUTURE 86 EVENTS

Saturday, August 10, 2002 10pm-6am
Future 86 & Brainfroot Present
RELOAD - Do You Feel Lucky?
Binghamton, NY
3 Rooms - 17 DJs - $10

Venue: Sugar Daddys (Back Rooms AND Front Chill Area)

:: Future 86 and Brainfroot Productions combine forces to bring you an unprecedented lineup of Upstate's finest DJs...
:: Techno Room by Future 86 Productions:
DJ Rapture - (www.djrapture.com) - New York City
Flex - Sky Baby / Skyehigh (www.djflex.org) - Rochester
mjDUKE - Future 86 / EFX / di.fm (www.mjduke.com) - Binghamton
Steve-E - Digital Earcandy - (www.digitalearcandy.com) - Syracuse
Elusive - Vibrant Soundz - (www.vibrantsoundz.com) - Utica
Super D - Future 86 / EKG (www.djsuperd.com) - Binghamton
Finesse - Future 86 / EKG (www.djfinesse.org) - Binghamton
Jimmy Samsara - Skorched Earth - Binghamton

:: House Room by Brainfroot Productions:
DJ Space - Revolving Records (www.revolving.org) - Albany
Swerve - Double Impact / Essence - Albany
Chad Roy - Skyehigh / Up & Under (www.skyehigh.com) - Syracuse
Moo - Renegade Tribe (www.renegadetribe.com) - Ithaca
Boywonder - Brainfroot / Blunted Circutz (web link) - Binghamton
B-Lysh - The Drunken Master / Paddy's - Binghamton
Kevin Next - Brainfroot - Rochester

:: Chill/Dub Room by MAU Files:
Meniscus - MAU Files (web link) - Binghamton
Sneak-E Pete - Blunted Circutz (bluntedcircutz.com) - Brooklyn, NY

:: Driving Directions:
From Rochester take I-90E to Syracuse to I-81S to Binghamton...
From Albany take I-88W to I-81S to Binghamton...
From Syracuse/Rome/Utica take I-81S to Binghamton...
From Owego/Elmira/Corning take NY-17E to I-81S...
From Ithaca take Route NY-79W to I-81S to Binghamton...
From Scranton take Route I-81N to Binghamton...
From NYC take I-80E to Delaware Water Gap to I-380N to I-81N...

...then, near the I-81/NY-17 interchange take Exit 4S (Binghamton) off of I-81, keep to the right. Go straight through traffic light and take the very first exit onto Robinson Street, keep to the left. At light take left onto Robinson Street, again keep to the left. At next light (only one block up) make a left onto Whitney. Proceed to the end of Whitney and make a right onto Frederick. Proceed to T and make a left. The venue is at the end of the block on the left hand side. Parking lot in rear, use driveway before the building, and along the roadside.

Click here for a printer-friendly version of this info.

More info TBA. Please add yourself to the mailing list below for updates and future info.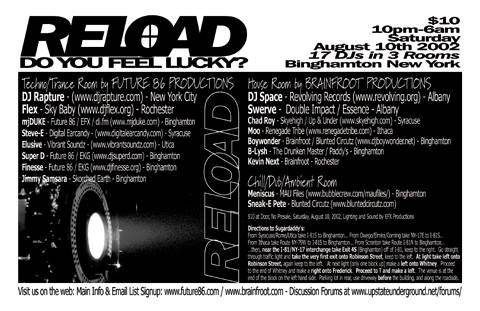 FUTURE 86 MAILING LIST
:: Please join the FUTURE 86 mailing list by filling out the form below. You may remove yourself at any time when you receive a message. We'll keep you updated on our events and other local parties. You'll also be eligible to receive special offers, free CDs and VIP admission to our events.

FUTURE 86 IN THE NEWS
:: Future 86 was featured in the Binghamton Press & Sun Bulletin Saturday, September 1st, 2001 in a Night Spots article by Sarah D'Esti Miller. [ Read The Article Online ]
OTHER LOCAL HAPPENINGS
:: 08-10-2002 Reload - Binghamton
:: 08-17-2002 Focus - Utica info link

FEATURED AUDIO
:: Every few months FUTURE 86 will bring you some mixes from local DJs to hold you over until our next event. RealAudio streams will play instantly. For MP3 links we recommend you right-click and Save As (Netscape users) or Save Target As (AOL/IE users) and download the entire file.

:: DJ mjDUKE - Eternity
RealAudio Stream (69:52)
MP3 Download Link (32MB)

WHAT IS FUTURE 86???
:: FUTURE 86 is an effort to bring Binghamton nightlife into the new millennium, both musically and visually, and to have as much fun as possible while doing so. We hope that through our music, our choice of venues and the support of the dance community we will achieve our goal.
LINKS, PHOTOS, AND CREW
:: Newly added, LINKS to other local electronica sites. Check out the PICS page for photos from past FUTURE 86 events. Also for who's behind the scenes check out the CREW page.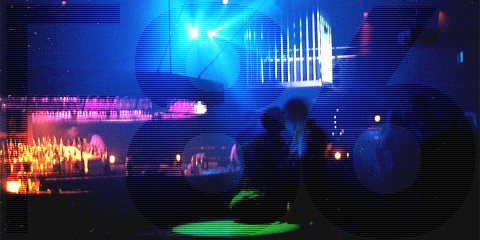 Questions? Email